You Fine SEO Gals & Guys! Did you want to learn how me and Marie (serious CowGirl + SEO enthusiast) cracked the code on three different service related websites and got these stuck sites with various issues (helllloooo 301 re-directs and keyphrase cannibilization rearing their ugly heads)?
Yep! We thought so!
I absolutely love case studies where I can follow strategies on client sites (or my own) especially when they're facing the same issues. So far, we have done three case studies that showcase what we've been able to achieve with on-site modifications, but as I sit here and try NOT to melt to death, while Marie and her horsie gallop around her Texas farm... let me announce that this case study will contain three case studies and they ALL have to do with the services niche: roofing, tree removal, and plumbing.
Yes! Diversity at its FINEST!
The point here is to show you the common theme of 90% of SEOs coming at you and telling you how they've done great interlinking; this usually translates to interlinking with link juice murder bleeds all over the place or overoptimization (which is becoming a beastly thing... wait for a case study for that of its own).
The Introduction... What I Live For Because I Get To Tease Marie
But first... let's talk about how we got our plumber client. This time, it wasn't me reaching out to Marie with a potential client; it was Marie who had been approached by a plumber client. In fact, when I asked Marie to give me details about the client, here's how it began:
"Dadgum Moon, you ain't gonna believe this!", she exclaimed to me in that Texan accent.
Me, snowboarding with my cat, Sspeedy Khan: "Uhhh, can this wait, CowGirl?! Sort of shimmying down the mountaiii..."
Marie: "Nawww, listen, this'll be fast, I gotta go herd sheep with my Shetland Sheepdog and check on the cows before I head back," as I clearly heard her cluck to the roosters while chewing on a straw. I could only imagine the fashion records she was smashing with her cowgirl hat & boots. I rolled my eyes. "Have it your way, You SEOing Cowgirl," I chuckled in my head, when bam, there I went:
I'll have you know, I saved Sspeedy Khan's life.
Marie continued: "So, this plumber... I swear to God, some of these dadgum SEOs, Moon, don't know their ass from their elbows. So, this plumber's been with some fancy schmancy agency for 6 months and he sent me his URL and main keyphrases. He's been stuck on pages 3 and 4 and 5 and crazy fluctuations. Now, I already took a look and can tell you that they fired off citations and spammy, junk fertalizer type-a links. These links ain't packin' no pure Clydesdale horse power, I tell ya..."
I'll spare your bleeding ears the agony.
Let's discuss how we got that plumber client in a metro area and a couple of other big cities in the US results like these:
Client 1 Site - Roofing:
Client 2 Site - Tree Removal:
Client 3 Site - Plumbing:
No, not every position is a #1 because truthfully, all these positions shift especially while we are still doing work on these client sites. But let's rewind. Let's talk about how these sites were performing before we started:
Before Picture of Client 1:
Before Picture of Client 2 Site:
Before Picture of Client 3 Site:
Before we get into more specifics, please keep in mind that these keyphrases are for organic SEO for local businesses and range from 390-2500 searches per month.
Whether you're doing work for 390 searches per month or 2500 searches per month keyphrases, the strategies (especially adding content and link sculpting) is the same; the only thing that changes is the SCOPE of it. Lower searches may require only a handful of articles while a 10,000/month search term might require 40 articles with very precise link sculpting strategy...
The strategies that we discuss here and in our dentist SEO case study, real estate SEO case study, and our finance SEO case study, are all relevant, whether your client's site is in a small town or you're taking on NYC or Miami or heck, an affiliate site! Good SEO strategies translate; it becomes a matter of how 'MUCH' of a push through to hit that tipping point.
Initial Observations & Notes
When we are approached by a potential client, me and Marie do our analysis on the site and any 'SEO work' performed by that potential client. Then, we compare our notes.
Notes for Roofing Site 1:
1.5 years old
Citations in all the major directories
Links from directories mixed in with homepage PBN links (dead give away) (33 total)
Meta title not optimized
Meta description missing
18 blog posts published, randomly interlinked and multiple times on each page
Notes for Tree Removal Site 2:
8 years old
Citations done
Handful of decent quality links
Stuck on pages 3-6 for a handful of keyphrases

Contains 10 published pages from years ago, plus some blog posts, interlinked but not optimized
Notes for Plumbing Site 3:
4.5 year old site
Citations and directory links
12 PBN links, half = pure junk
No blog section
15 aged pages, no blog
So, What's The Plan, GoodLookin'?
After comparing notes on all three sites, the common pattern we noticed was: existed, aged pages, that we could use to build a silo. If a blog existed, we agreed that those posts could also be used to add or create link silos.
Now, while Cowgirl wanted me to insert some Garth Brooks reference here but I'm here to save you all with a bit of hip hop:
"And I ain't spairin' nobody
I'll pop up at his wake and kill his *****n' auntie
Kill you then go kill a beat that's a double homi
I'm Lebron with the heat Jordan in the 90's
I'm the ****n' greatest, Ali" - Try Me Remix by Montana 300
And SEO Ladies and Gents, that's how I bust into my SEO work!!!
But in all seriousness, we knew that for the first two client sites, the first month, we could define a basic silo structure while we had the clients take care of more content that we could add to the silos.
Aged pages can provide a lot of punch when used for internal, strategic linking to create a link silo! If you have an aged, GEO (location) relevant site, that's even better. Use these in your link silos!
I cannot emphasize how much this is ignored. Not only that, but in the last few months, me and Marie have tested a couple of different link silo structures... and guess what? While they can take 2-4 weeks to take full effect, when they do, magic happens:
We talked to each client and setup their expectations with the content each one would need to provide.
Managing Each Client's Expectations...
As great as tiered link silos are, the big thing to understand is this: as much as we want quick results, as much as we want to tell the client, 'check this out' with a bunch of green arrows every month, sometimes, that is not the case.
Don't get me wrong: sometimes, the wins are within the first month, but with more competitive niches, we are noticing quite a slow down in indexing, re-indexing, and overall rankings increase. We have seen an indexing slowdown of 1-2 months in some unfortunate cases (even with video posts, social signals, pinging submissions, etc). In a few cases, patience is the only key.
With all that said, because for the first two clients we had to break quite a few links to create a base structure for the link silo.
And sometimes, the bunny hole goes deeper and deeper in months 2 & 3. Sometimes, the gains look amazing and sometimes, the beginning of ANOTHER Google dance can look like this in Month 4:
You know what's never fun? Showing initial gains and then BAM! Drops! At the time this is happening, this is never fun. You never know if this is the infamous Google Dance or frankly, if something went wrong.
It's never fun to talk to your client and tell them all the CORRECT on-site strategies you've implemented and that there's a drop. We went through this with 2/3 three sites (the first two) as we had to take the existing content and wipe out 90% of the internal links already implemented.
Why did we wipe out 90% of the internal links? Because when you're designing a link silo, you can not have each blog post linking out 3-7+ times!
But let's rewind for a moment: if you thought that you were going to do SEO work where you shake up its initial foundation and NOT have the site go berserk in Google, then you're part of the problem.
Of course, before you can build a proper house, you have to get the correct foundation going. Sometimes, the foundation is cracked, or frankly, a crack appears, because hell, $h!t happens. When you dig up the foundation, stuff looks ugly. Then, you get the correct cement mixture or whatever it is that foundations are made of, lay that beautiful $h!t of a foundation, and bam! You get to build a house on top of that beauty!
So, yes, be confident in explaining the fluctuations.
Rewind: The Smaller On-Site Factors We Played With In The First Two Months
I'm a huge fan of meta title and description. But, before you keyphrase stuff either one of them (or even use the keyphrase once in either tag), take a look at what's ranking in the Map pack AND organic. I go with the majority pattern. There are cases where none of the sites are optimized at all. In this case, I like to start off with only including the keyphrase in the meta title and how that performs.
In these cases, it was simple for the most part. The roofing site had high search #s and was pretty competitive and I ended up tweaking the content on the homepage and making sure the header tags were being used properly. This was done a couple times in month 1 and month 3. The other two were much easier, to be frank, and were already semi-optimized.
The home page content included 400-500 words with the primary keyphrase used 3x on average and at least once in the h2 and h3 tags.
Guess What Else Reared Its Ugly Head? Keyphrase Cannibalization...
Our roofing client had a cannibalization issue creep up. Not in the beginning, either. What happened, for whatever reason, is that they had another blog post with the keyprhase in the URL, in an h2 tag (on that page), and in content.
When you are dealing with bigger sites, sometimes, these pages don't jump at you. So, when this sonofagun popped up at position 11 for the keyphrase we were targeting the main homepage for, I messaged Marie....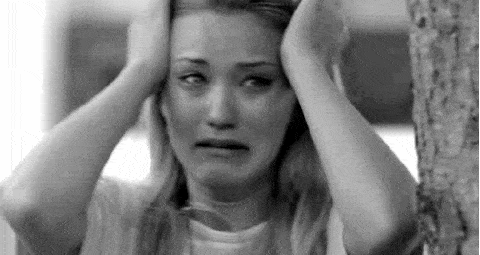 After she told me to cool my jets and focus on breathing...
... here are the steps we took to fix this ugly little issue:
De-optimize the meta tag and description (completely remove keyphrase from both)
Change the h1-title of the article and keep the keyphrase out of it
Link to the homepage with the keyphrase we wanted it to rank for
Change URL/slug and do a 301 redirect
Luckily, this issue sorted itself out within 2 weeks. The range on these varies from a week to 6 weeks, depending on when The Big G wants to take the 301 into consideration.
All The On-Site Work That Was Performed
Meta title and meta descriptions optimized
Content on ranking pages tweaked: keyphrase density, header tags, images added with title and alt tag optimized
Aged pages used in link sculpting
Created sophisticated multiple tiered interlinking silos
Added new content to push the defined multiple tiered interlinking silos
Handled keyphrase cannibilization
Tried not to die of a heart attack from rankings dropping, & funnily enough, taking their time to budge
Conclusion
Anyway, the results we shared in the beginning were in month 4-6. Different stages. We will be updating these rankings in the near future but just to revisit where our roofing, tree removal, and plumbing clients stand as of recently:
Client Site 1:
Client Site 2:
Client Site 3:
That's it, You Fine SEO! If you've enjoyed this case study, please share it. It's months of hard work and hours and hours of collecting images, data, and laying it in a cohesive case study. Please join our Facebook Rule Your Rankings group for interesting discussions.